The Premier League is back with another exciting round of fixtures this weekend after a brief hiatus. The players have been away on international duty for the past week and will now need to get back to their clubs and have their sights set on their league matches.
Arsenal have been phenomenal this season and are currently the favourites to win the Premier League title. Pep Guardiola's Manchester City aren't far behind, however, and will be intent on catching up with their rivals in the title race.
Manchester United and Liverpool also face crucial tests this weekend and will look to improve their top-four chances. Chelsea also seem to have found their feet under Graham Potter and will be intent on making amends for what has been a poor Premier League campaign so far.
The relegation battle has been heating up over the past month, with several teams set to lock horns to ensure their survival. Here are my predictions for this weekend's round of Premier League matches.
---
Manchester City vs Liverpool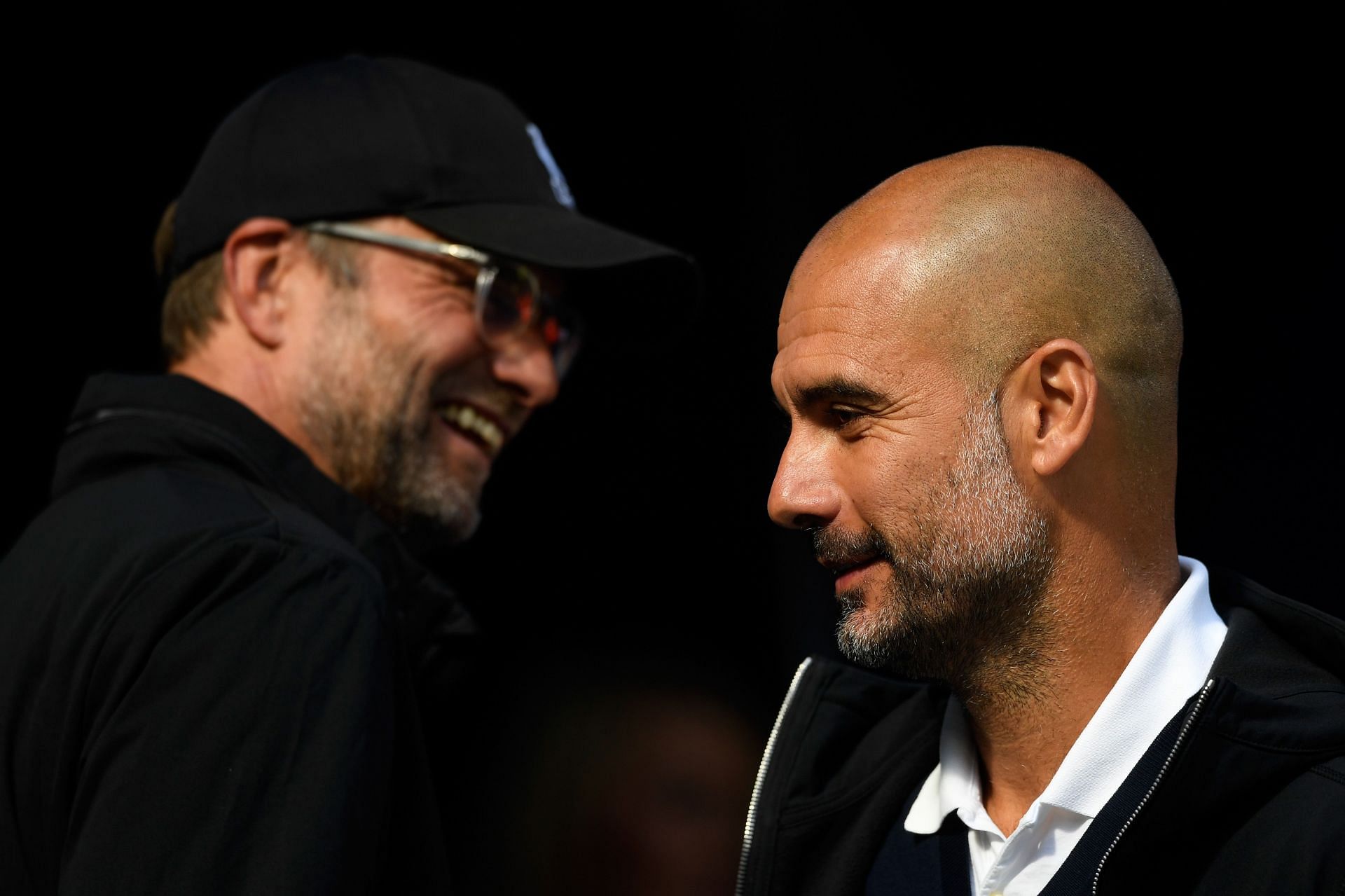 This is a huge game for Manchester City and they cannot afford to slip up. If they drop points here, they could find themselves 10 points behind Arsenal. If City win this game, however, the onus will be on Arsenal. If you're an Arsenal fan, this is a game where you'd be hoping City would slip up.
Liverpool aren't going to dominate the ball and will use their pace on the counter with Salah, Nunez, and Gakpo. Manchester City do leave open spaces at the back and Liverpool will need to exploit them.
Liverpool have been a bit like a bag of rebels, and Jurgen Klopp doesn't know what he's going to get from his team. One minute they're beating United and City and the next, they're losing to Bournemouth away from home. If Liverpool lose to City and then beat Arsenal next week, they'll have blown the title race wide open. Liverpool need to win both of these games to get into the top four, and that would be a good result for them.
Liverpool haven't had the season they've had so far only because of Trent Alexander-Arnold. He gets a lot of stick, and I'm not sure what Liverpool are going to do with the situation. They've won Premier League and Champions League titles with him in the team.
I would be shocked if Erling Haaland isn't fit for this game – he pulled out of the international break. I don't know which Liverpool are going to turn up, and I'm backing Man City to win a massive three points this weekend.
Prediction: Manchester City 2-0 Liverpool
---
Bournemouth vs Fulham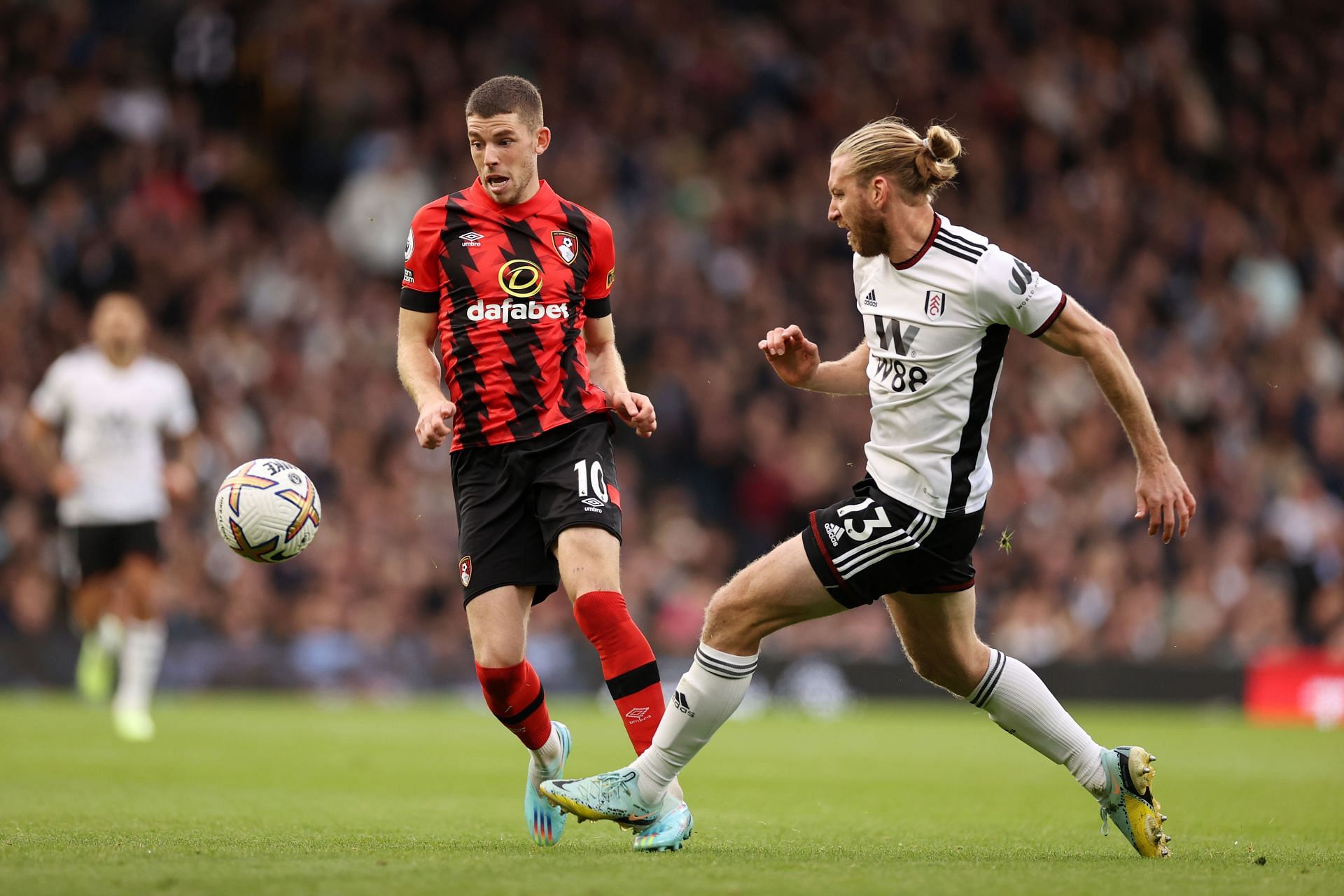 Bournemouth are playing Fulham at the right time, with both Willian and Aleksandar Mitrovic suspended. I thought Fulham were doing really well the other day against Manchester United until they gave away the penalties.
Bournemouth will need to have a go in this game, and they need a victory. I'm backing Bournemouth to win this game and get their season going.
Prediction: Bournemouth 2-0 Fulham
---
Nottingham Forest vs Wolverhampton Wanderers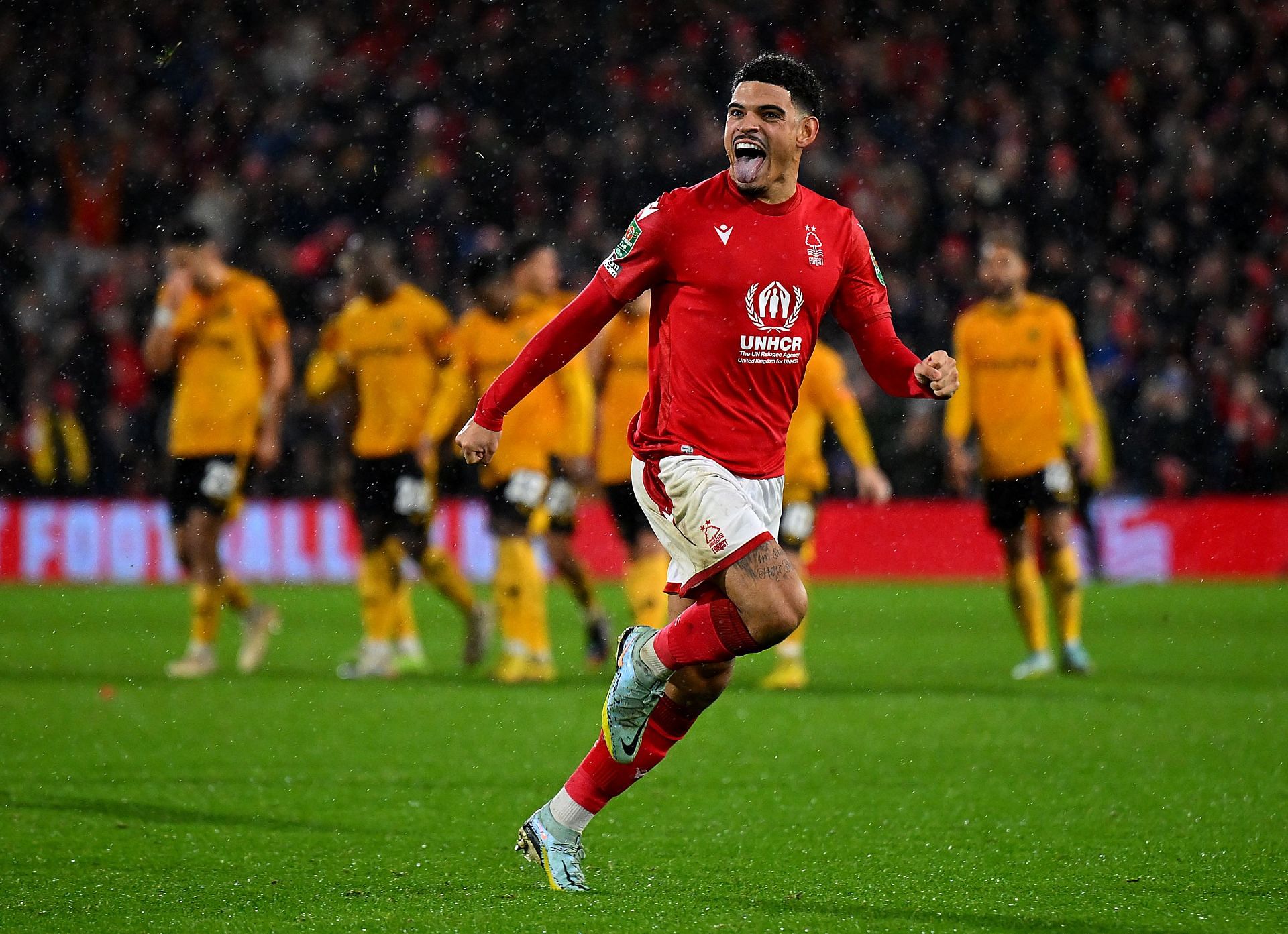 This is a massive game for both teams. Nottingham Forest have got to start winning their home games. They haven't won any of their last three home matches. They have three big games coming up before a difficult run, and this is a must-win game for them.
Wolves fell behind against Leeds again last week and then had a player sent off. A Forest win here would bring Wolves right back into the relegation battle.
Prediction: Nottingham Forest 1-0 Wolverhampton Wanderers
---
Crystal Palace vs Leicester City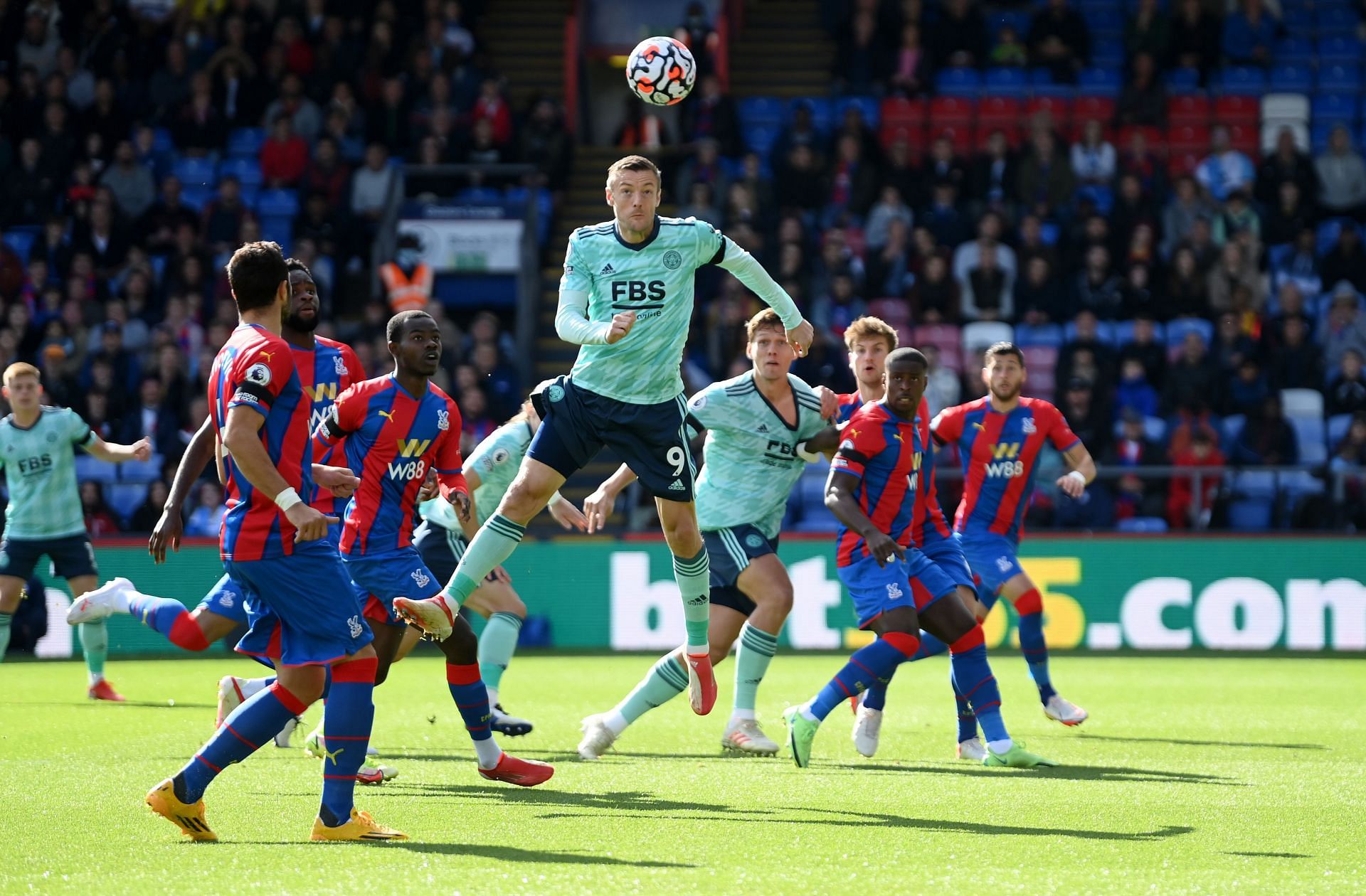 This is another huge game. A lot depends on how Roy Hodgson manages his team. I'm disappointed with what Crystal Palace did with Vieira. If Palace win, they stay up. If they lose, they're in big trouble, and I haven't said that all season.
I can't see how Crystal Palace are going to score a goal. I remember the last time Roy was there, and they were very negative. They've brought him in now to manage a team that's playing everyone below them, and they need to win matches. I don't get it.
Leicester City have got great attacking options. I thought James Maddison was outstanding for England. They got a good result at Brentford, and I expect them to beat Palace.
Prediction: Crystal Palace 0-2 Leicester City
---
Arsenal vs Leeds United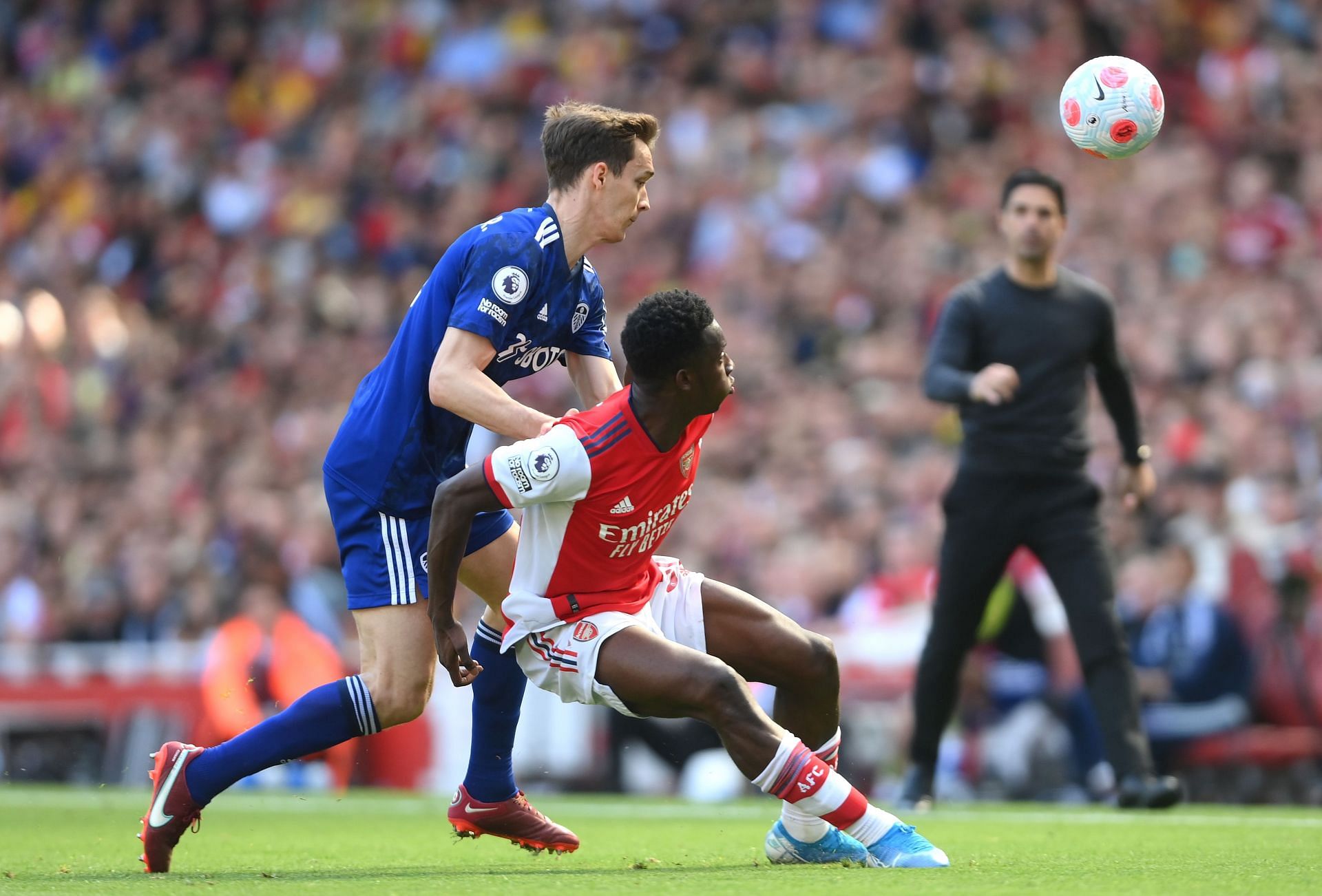 If City win their match against Liverpool, Arsenal have to win this game. They've been absolutely outstanding this season. Fulham gave United a run for their money this month, and they were battered by Arsenal. That's how dominant Mikel Arteta's side has been this season.Bukayo Saka is playing as well as an in-form Mohamed Salah right now, but he'll need time to reach the numbers that Salah used to put up. Mohamed Salah was the best player in the world at a point in time. You've got to remember that we're talking about a young kid – Salah was at Chelsea when he was Saka's age.Leeds are not going to hold back and play ten men behind the ball. They're going to have a go and I expect them to score a goal, but I don't think they'll keep it tight at the back. Arsenal are at the top of the league because everyone has been excellent. When one player doesn't have a good game, another player steps up. They've been brilliant as a team and should be able to win this game.
Prediction: Arsenal 4-1 Leeds United
---
Brighton & Hove Albion vs Brentford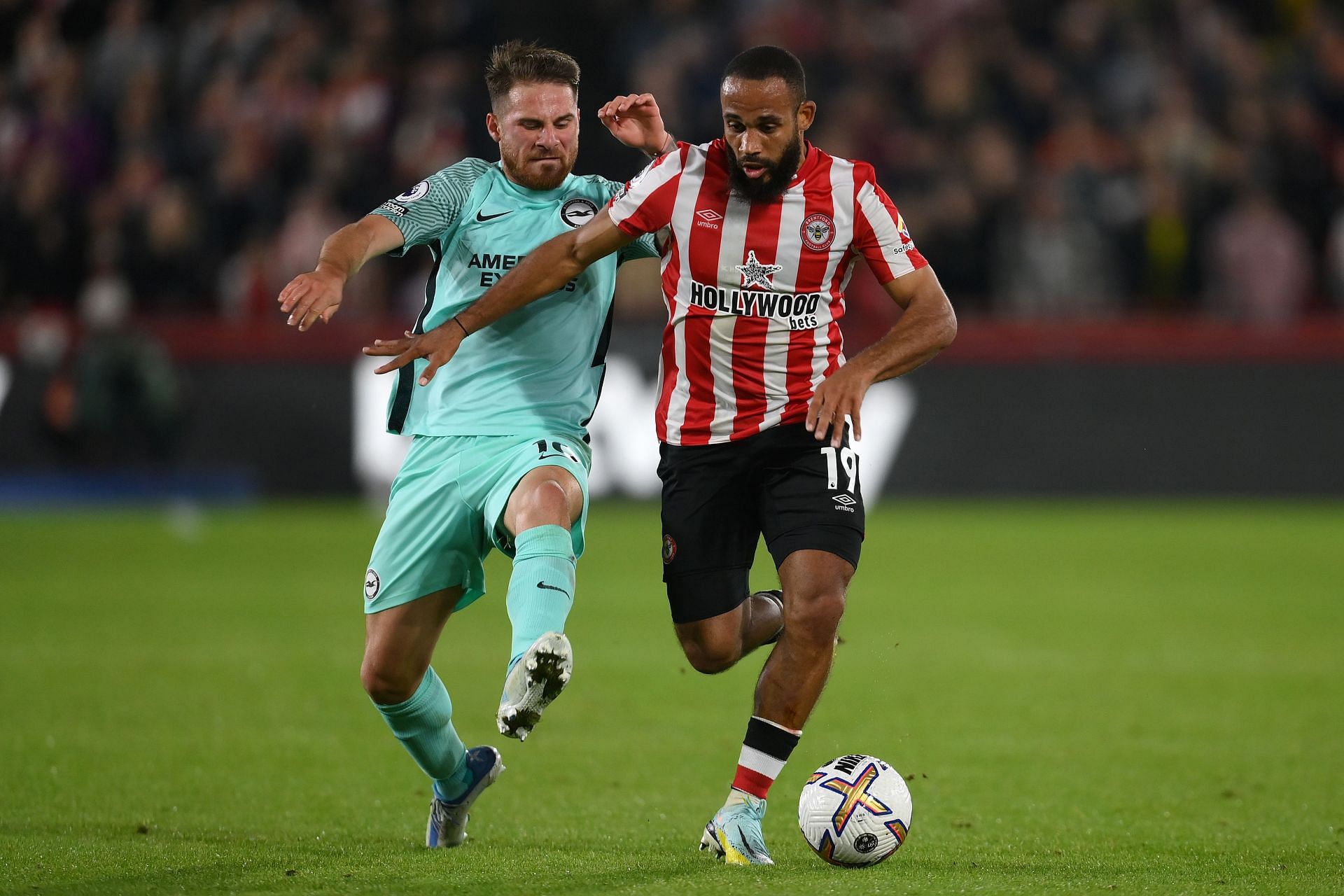 Brentford didn't get the greatest result against Leicester, but they've been excellent this season. Ivan Toney made his debut for England last week and he'll be absolutely buzzing this weekend.
Brighton are brilliant with the way they play and move the ball around. We're all waiting for them to blow up, aren't we? If they win all their games in hand, they'll jump to fourth place! Mac Allister has had a long journey and could have some jet lag. There is a lot to consider here, but I'm backing Brighton to win this game.
Prediction: Brighton & Hove Albion 2-1 Brentford
---
Chelsea vs Aston Villa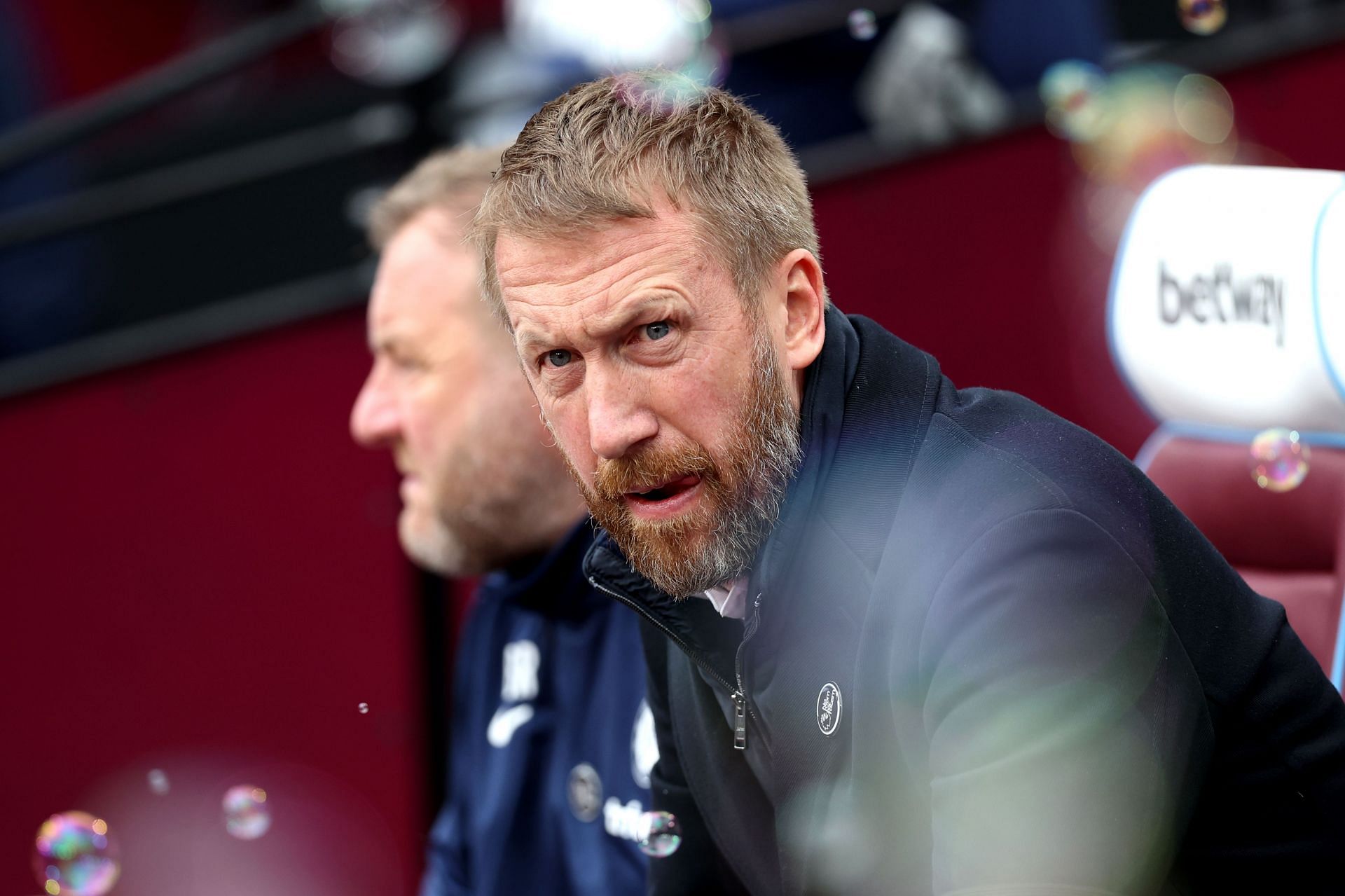 Chelsea and Aston Villa are on exactly the same number of points after 27 games – who could've predicted that? Aston Villa have improved with Unai Emery and are finding the back of the net every week with him in charge.I still don't think Graham Potter has found his best eleven. He got a great result against Leicester, but he changed it up again in the following game. Chelsea were excellent against Borussia Dortmund in the Champions League, and they've got every chance against Real Madrid over two legs.I expect Chelsea to be a different animal in Europe – they're not playing for anything in the Premier League. A place in the Conference League is the last thing they want. The only way they can reach the Champions League next season is by winning it this season – they've got bigger fish to fry.I think Emery is doing a great job at Villa – they've been underestimated so far and I don't see how they don't score in this game. I don't think Chelsea can score a bundle of goals just yet, and they could drop points in this fixture.
Prediction: Chelsea 1-1 Aston Villa
---
West Ham United vs Southampton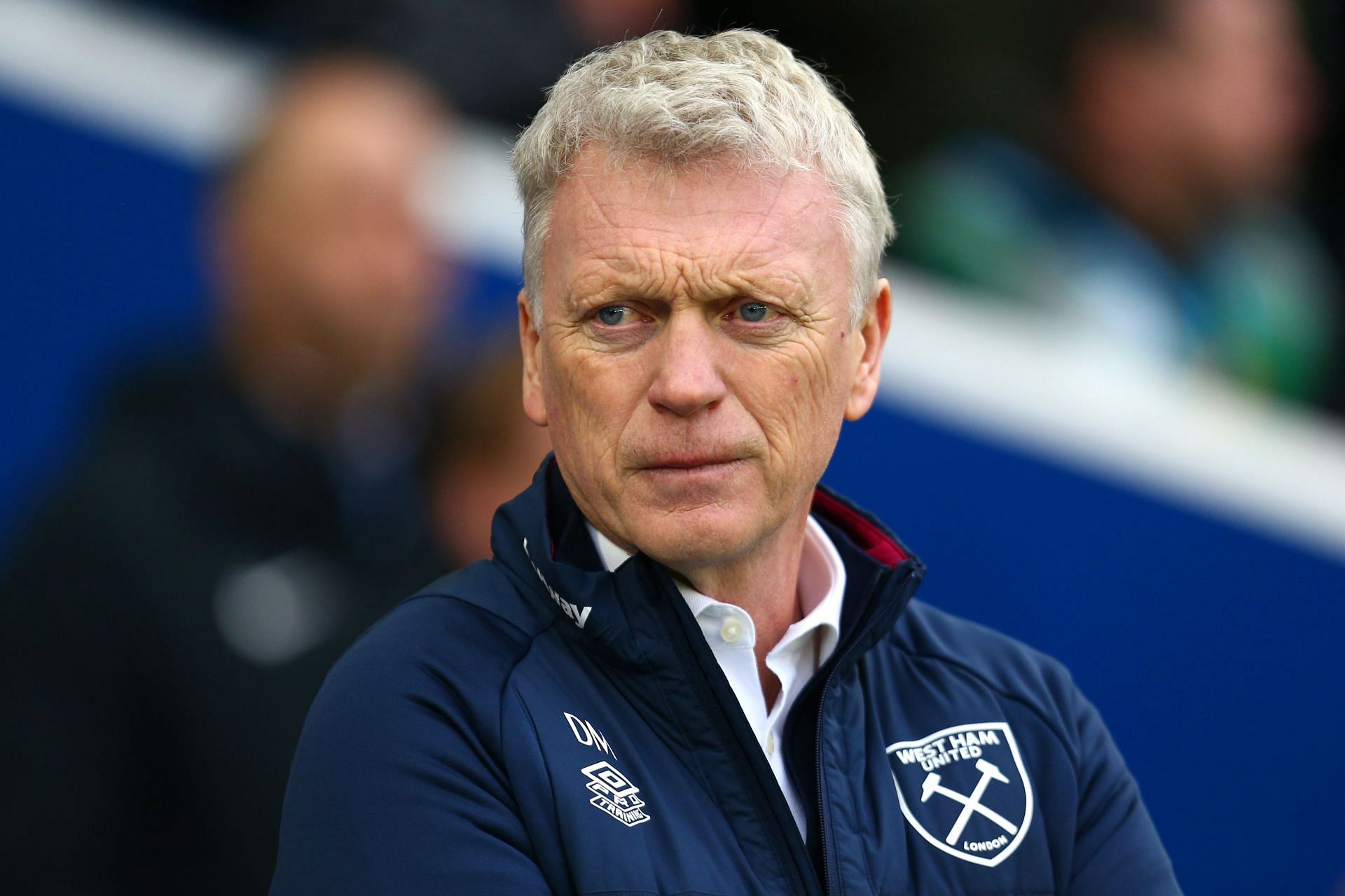 Wow, this is a huge game! A victory can get you so far out of the relegation battle, and you can jump four places. Southampton got a good result against Tottenham but if they lose here, they'll be in big trouble.
West Ham turned up and produced an impressive performance against Nottingham Forest. This is a cup final, and I'm going to go with a West Ham victory this weekend.
Prediction: West Ham United 2-0 Southampton
---
Newcastle United vs Manchester United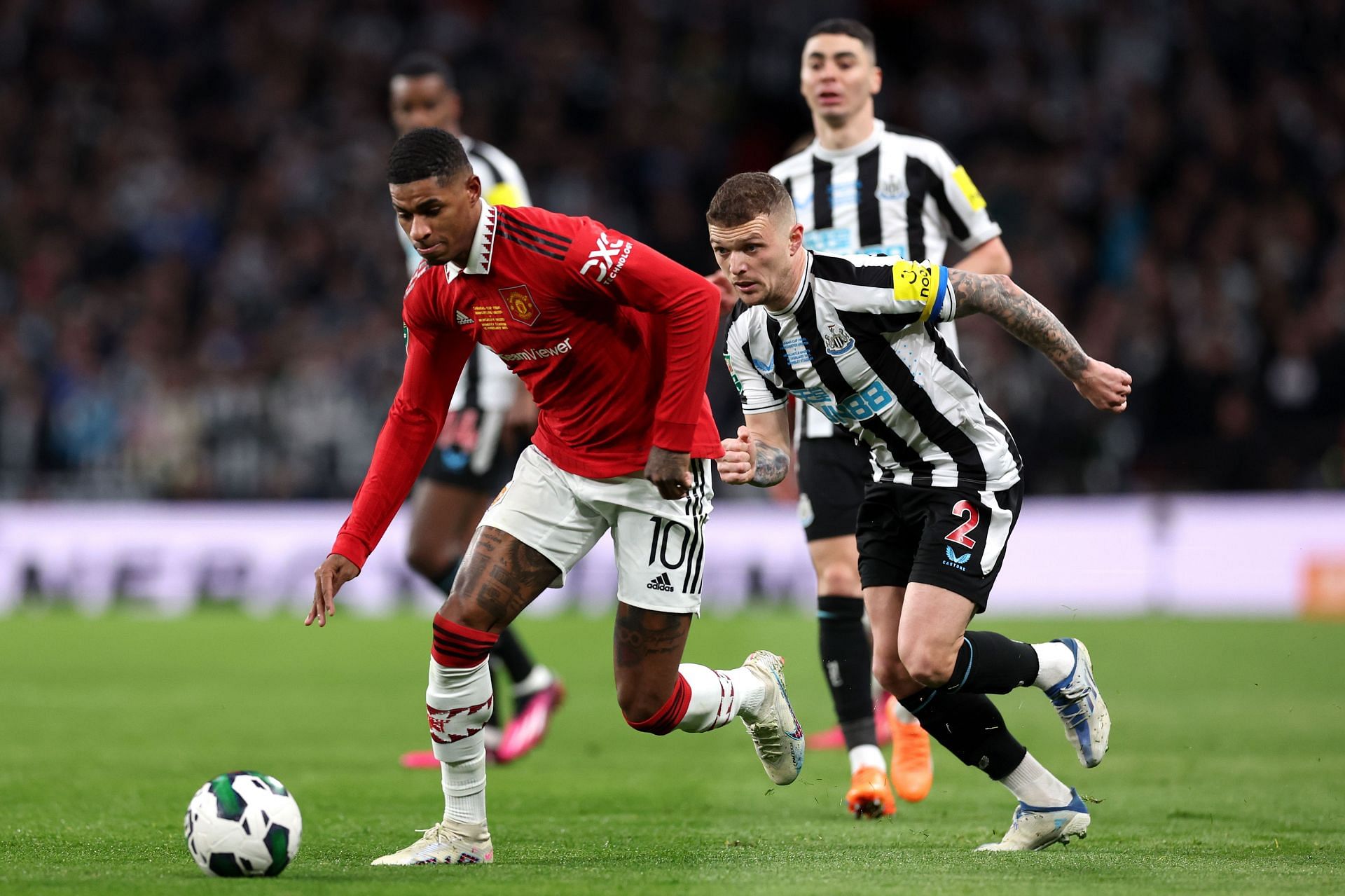 What a game! This game could really open it up. If Newcastle win this game, Man United will need to work hard to get into the top four. They could end up in fifth place in the Premier League table by the end of the weekend.
Manchester United aren't playing well at the moment and they're very reliant on Marcus Rashford and his goals. Someone else has got to chip in now. They've had some results but they aren't ripping it up. Newcastle are playing at home and a draw isn't good enough for them. I'm going to go with Newcastle to win this game.
Prediction: Newcastle United 2-1 Manchester United
---
Everton vs Tottenham Hotspur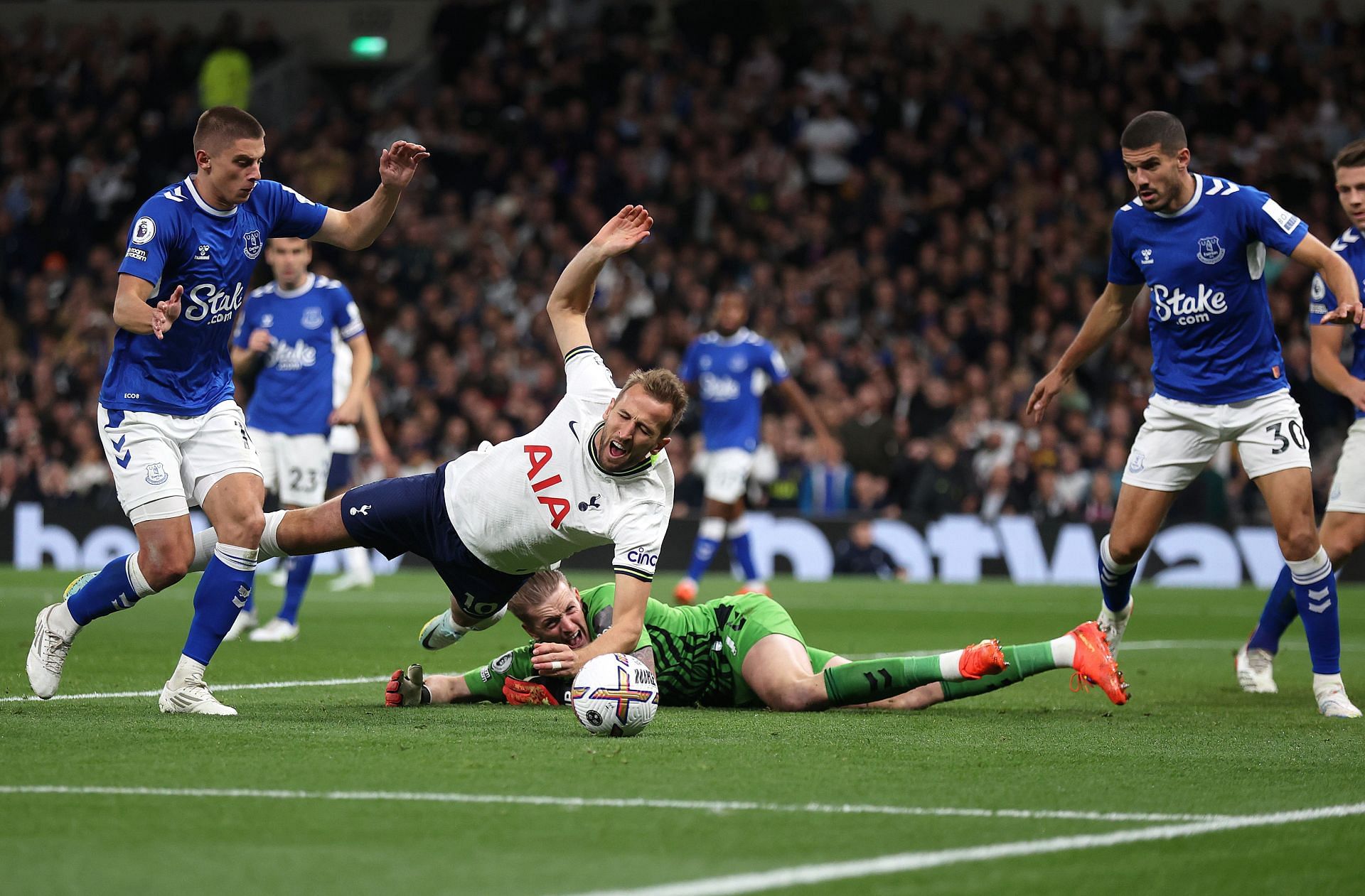 The one thing I don't get about Antonio Conte's sacking is that his number two is in charge. I don't understand that at all. This is a hard game, and you'll know if the players are behind their manager this weekend. It's going to be a battle on Monday night – Everton will make it one. We'll see if Tottenham are up for it.If Tottenham can win this game, you'd hope that they can follow it up. I think they need to win their next three matches to make it to the top four. This is a big game for the players at the club.Harry Kane's future at Tottenham will be his call. He isn't guaranteed a trophy at a club like Manchester United – they went a long time without winning one. It depends on who Tottenham appoint as their next manager. I wouldn't be surprised if Kane stayed at the club. The lad deserves to take a call on what he wants.
This game is a punter's nightmare. If Everton won, you wouldn't be shocked. If Tottenham won, you wouldn't be shocked. If this game was a draw, you definitely wouldn't be shocked. Tottenham can be lethal on the counter so believe it or not, I'm going to back Tottenham to win this game.Prediction: Everton 1-3 Tottenham Hotspur.